The Association for Animal Welfare Advancement Learning Center
Agenda/View Sessions
10:00 am EDT
Yoga with Ira and Pune
View Session
Overview
---
Join Pune and Ira (he's the one with the tail) for some simple warm-ups, stretching, and mindfulness exercises to get us relaxed and energized for the summit ahead.
We'll start class seated, so bring a cushion or yoga block so you can be as comfortable as possible; sitting on a chair is great, too. Cats, cows, down dogs, and any other critters are welcome in our Zoom room—the more, the merrier.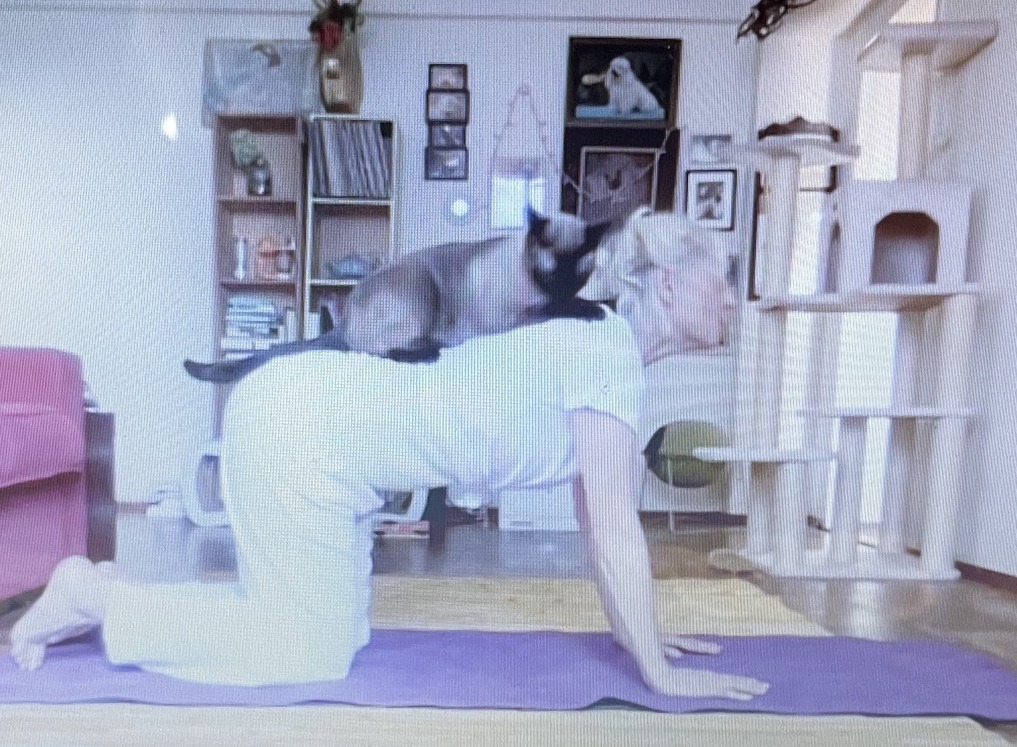 Speaker(s)
---
Pune Dracker, Digital Communications, The Association for Animal Welfare Advancement
Ira, Yoga Cat
11:00 am EDT
The Spectrum of Care: 21st-Century Solution to 20th-Century Problems (keynote)
View Session
Overview
---
Seventy percent of United States households have pets, while less than 40 percent have children. Of the households with pets, an overwhelming 95 percent consider their pets to be family members, based on the undeniable power of the human-animal bond. The United States in the 21st century reflects a bonded family society.

But human and animal welfare systems still reflect 20th-century ideas and methods that don't work well for our 21st-century bonded family society. Our family healthcare system, for example, which entails much more than medical care, is fragmented. It does not adequately serve many families, mainly because of low socioeconomics.

As professionals in a sector that serves both parties in the human-animal bond, we can change this. To better meet the needs of our 21st-century bonded family society, veterinary care teams and animal welfare organizations need to embrace a One Health system. Such a system is critical. When resources and activities are aligned among stakeholders and programs dedicated to the well-being of families and animals across the socioeconomic spectrum, 20th-century problems are a thing of the past.
Learn how a One Health system could expand your community's access to vital care and raise your organization's visibility and impact among community stakeholders.
Speaker(s)
---
Michael J Blackwell, DVM, MPH, FNAP, Assistant Surgeon General, USPHS (Ret.), Director of the Program for Pet Health Equity, University of Tennessee
12:15 pm EDT
The Spectrum of Care: Partnering with Veterinary Education Programs to Increase Access to Care
View Session
Overview
---
There are many benefits for communities when veterinarians practice a customized, personalized approach.
The American Association of Veterinary Medical Colleges will describe Spectrum of Care concepts and explain how they can be an effective strategy for addressing access to care issues. Learn how they tackle veterinary challenges from an academic perspective, by providing graduates with the competence and confidence to practice across the spectrum. Join a discussion of how shelters and veterinary academic programs can collaborate to enhance graduate preparedness, including in shelters.

Speaker(s)
---
Dr. Heather Fedesco, Assistant Director of the Spectrum of Care Initiative, American Association of Veterinary Medical Colleges
Dr. Julie Noyes, Director for Academic Affairs & Executive Director of the Spectrum of Care, American Association of Veterinary Medical Colleges
1:30 pm EDT
Tick, Tock, Talk
View Session
Overview
---
Back by popular demand, but with a virtual spin, this networking event offers break-out rooms for you to discuss the most pressing industry trends with your colleagues. The event will wrap with key takeaways from each group discussion shared at large.
2:15 pm EDT
10 Ways to Attract and Retain Talent in a Crazy Labor Market
View Session
Overview
---
We are in an unprecedented time for our country. Despite major economic headwinds, such as inflation, supply chain issues, and global unrest, we continue to have an historic talent shortage. This has a significant impact on the animal welfare profession's ability to stay adequately staffed and fulfill its mission.
Ready to meet these challenges head on? In this rapid-fire session, Tom Erb will share with you 10 quick but highly effective action items you can immediately put into practice to improve your recruiting and retention efforts.
Speaker(s)
---
Tom Erb, President, Tallann Resources
3:20 pm EDT
Keeping The Momentum Going: Diversity, Equity, and Inclusion in the Workplace
View Session
Overview
---
Are you struggling to advance diversity, equity, and inclusion in your department or organization?
Or perhaps your department's DEI programs got off to a good start but now it seems that progress has slowed to a crawl?
Many DEI efforts lose momentum when leaders focus on reactive solutions or to-do lists that don't address deeper the systemic issues.
In partnership with The Association, MSM Global Consulting will share current DEI trends and outline three promising practices to help leaders successfully transform their organizations. You'll learn the common pitfalls to avoid when advancing DEI, and we will share strategies and resources for success. This session is invaluable for any animal welfare professionals interested in improving diversity, equity, and inclusion among their teams; managers, team leaders, and supervisors in particular can benefit.

Speaker(s)
---
Maria Morukian, President and Founder, MSM Global Consulting
Jasmin Robinson, Director of DEI Initiatives, The Association for Animal Welfare Advancement
| Access Date | Quiz Result | Score | Actions |
| --- | --- | --- | --- |