The Association for Animal Welfare Advancement Learning Center
Why Become CAWA?
Distinguish your skills and up your game! Show your commitment to high standards and ethical practice in the field of animal welfare, become a Certified Animal Welfare Administrator (CAWA). The CAWA program is designed to:
Distinguish the knowledge, skills and achievements of high-level managers working in animal welfare and protection; to support best practices within the profession
Broaden the understanding among those making hiring decisions and the general public of the specialized qualifications required to successfully lead non-profit organizations and governmental agencies dedicated to animal care.
Complete details about the program can be found in the Applicant Guide.
Why Hire a CAWA?
Add "CAWA Preferred" or "CAWA Required" to your recruitment materials!
Hiring a CEO or Executive Director who has earned the Certified Animal Welfare Administrator (CAWA) credential:

Ensures your organization and the Board of Directors that the individual has well rounded experience and unique animal welfare knowledge to support your agency's mission and long term growth
Supports your fundraising goals; donors who meet with a CAWA understand the Board of Directors' commitment to use their money wisely
Assures your staff that their leader has the highest skill level
Qualified individuals meet rigorous standards set by The Association's peer professionals
High minimum standards are set for those who sit for the exam:
Candidates meet strict eligibility requirements in leadership, management, and animal welfare experience.
The Association develops and manages the CAWA program in accordance with globally accepted accreditation standards and best practices for personnel certification programs.
The exam is fair, practical, and reflects industry competency standards.
Current CAWAs are required to continue their education through leadership, professional involvement, and formal coursework.
Meet a CAWA
Miguel Abi-hassan, CAWA, CEO, Halifax Humane Society
Beau Archer, CAWA, Capital Projects Administrator, Humane Rescue Alliance
Maria Solacito, DVM, Senior Veterinarian, County of Los Angeles Department of Animal Care and Control
Testimonials from CAWAs
Miguel Abi-hassan, CAWA, CEO, Halifax Humane Society:
I personally feel that being a CAWA and continually advancing my education fosters confidence in my decision-making process. I believe becoming a CAWA has improved communications with my teams, external decisionmakers, and my board.

---
Beau Archer, CAWA, Capital Projects Administrator, Humane Rescue Alliance:
One of my favorite aspects of having my CAWA is that I get to interact with other CAWAs and also folks who may be interested in learning more about the certification program.

---
Katie Luke Broaddus, DVM, CAWA, Chief Operations Officer, Austin Humane Society:

As I transitioned from Chief Veterinarian to COO, I knew I needed more knowledge to help guide my decisions for our organization. The preparation for CAWA certification was excellent for rounding out my experience as I moved into this new role.
---
Shelly Simmons, CAWA, Division Manager, Greenville County Animal Care:

Becoming a CAWA gives leaders a competitive edge in the job market and helps executives gain respect in the animal welfare community as a subject matter expert in the industry.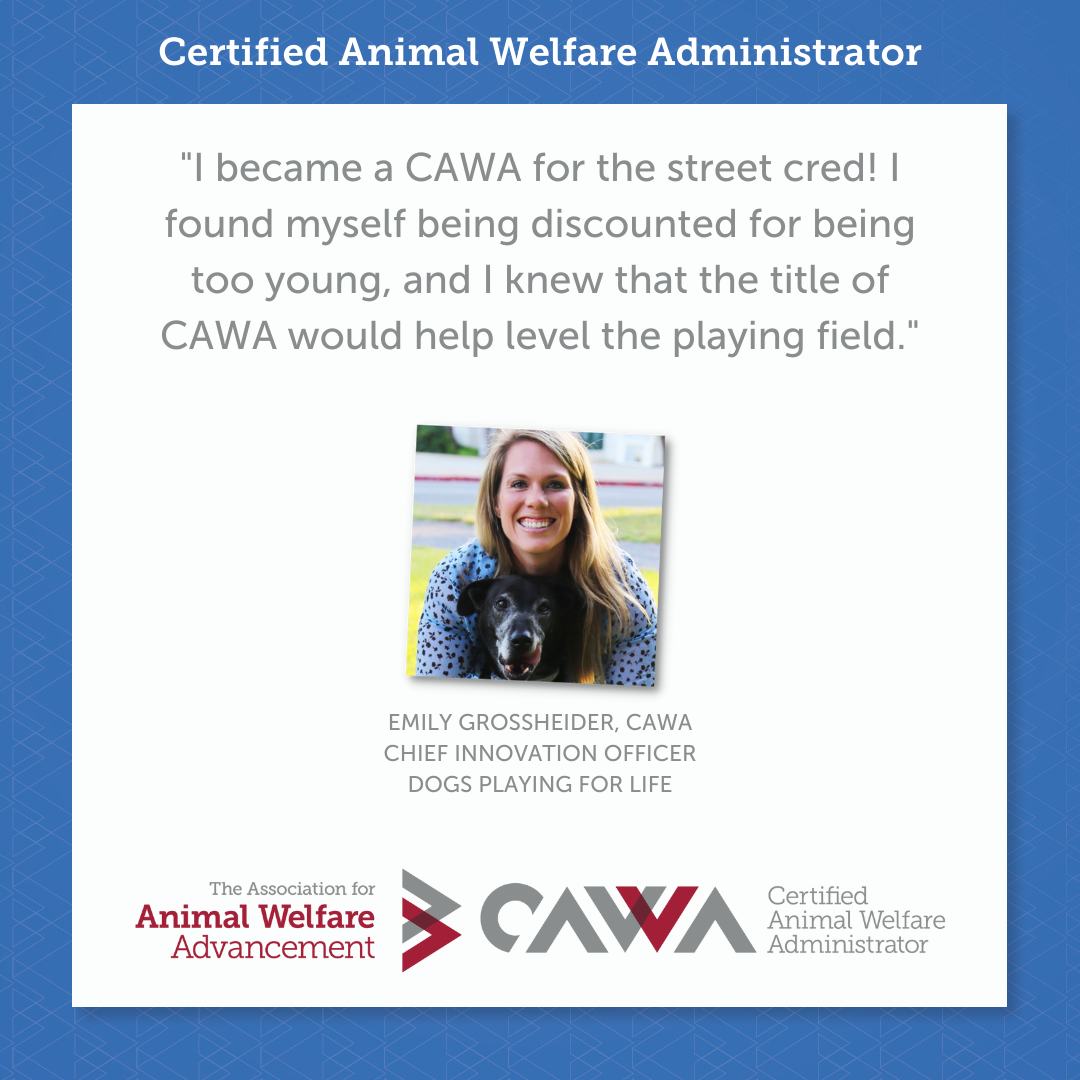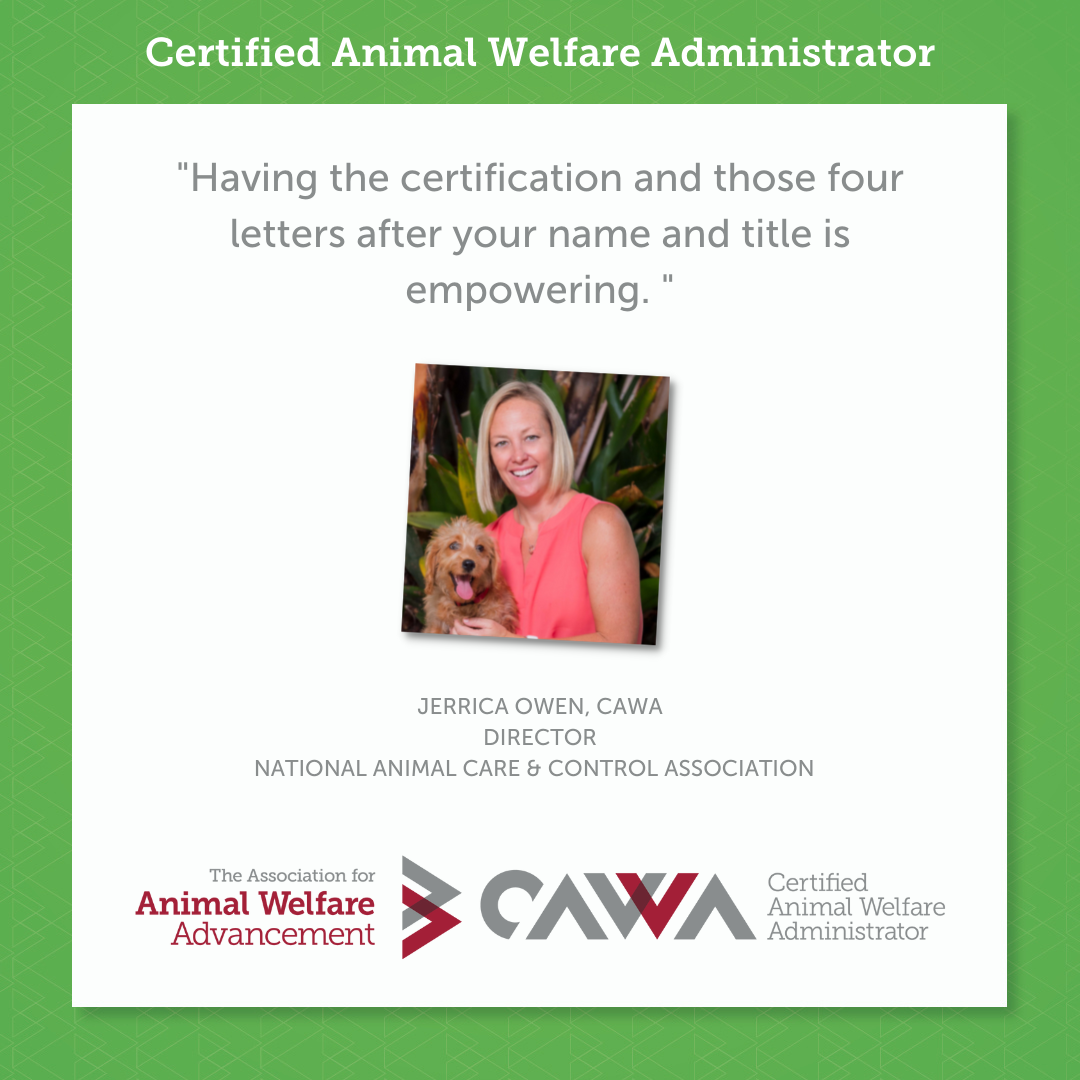 | Access Date | Quiz Result | Score | Actions |
| --- | --- | --- | --- |