The Association for Animal Welfare Advancement Learning Center
4/28/21 Shelter Dentistry: The Complicated Costs of Care
4.67 (3 votes)
Recorded On: 04/28/2021
Register

Animal Welfare Professional Member - Free!
Student Member - Free!
Industry Partner Member - Free!
Learning Member - Free!
Dentistry is more than cleaning and pulling teeth; and dental disease is an animal welfare issue. Dr. Lesli Groshong will discuss the medical, financial, operational, emotional, and community impact complexities of dental disease in shelter animals. Attendees will leave with an understanding of the challenges of providing proper dental care to shelter animals, including: staff training, equipment, and costs. Dr. Groshong will explain:

● Common veterinary dental procedures in the shelter
● The challenges of balancing individual animal needs within shelter medicine, a specialty that focuses primarily on population and disease control
● How dental disease impacts animals, shelters, adopters, and veterinarians
This session will benefit shelter directors of all organizations who provide medical care, veterinarians, veterinary technicians, and medical staff.
This session is part of the Shelter Medicine series, a collaboration between the Association of Shelter Veterinarians and The Association for Animal Welfare Advancement.
This live and recorded program is approved for:
1 hour of continuing education credit in jurisdictions which recognize RACE approval
1 Certified Animal Welfare Administrator continuing education credit
1 CE towards ACO CE requirements per Ch. 829 of the Texas Health and Safety Code by the Texas Department of State Health Services (DSHS)
If you wish to earn RACE CEs, you MUST submit your veterinary/tech license number + license state when you join the live session or after you watch recording (due to new AAVSB RACE requirements)! Participants have to attend at least 50 minutes of the live session / watch 50 minutes of the recording in order to receive the 1-hour credit of RACE CE.
BONUS!:
- Members of The Association for Animal Welfare Advancement who are vets or vet students may receive a free 1-year membership with the Association of Shelter Veterinarians (ASV).

- Members of the Association of Shelter Veterinarians who are professionals may receive a 1-year Professional membership with The Association for Animal Welfare Advancement for only $1. Veterinary students are not eligible for this promotion as they have their own low-cost Student Membership option.

>> Membership instructions will be sent after you attend your first live webinar in full.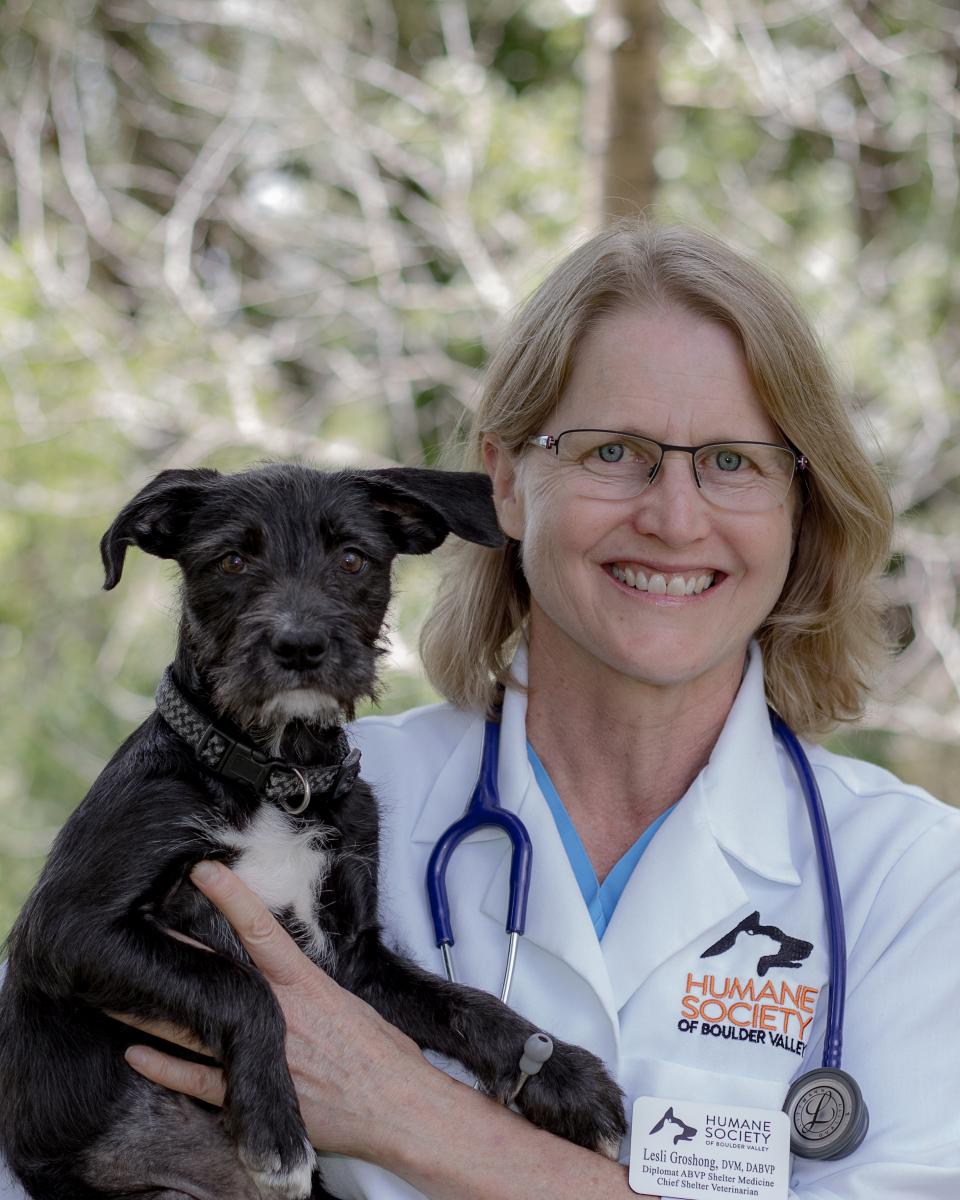 Lesli Groshong, DVM, Diplomate ABVP (Shelter Medicine)
Chief Shelter Veterinarian
Humane Society of Boulder Valley, CO
A graduate of Colorado State University College of Veterinary Medicine, Dr. Lesli Groshong, has been the lead veterinarian at the Humane Society of Boulder Valley for 27 years. Dr. Groshong has mentored hundreds of veterinary students from around the US and abroad in spay/neuter techniques and shelter medicine. She is boarded in shelter medicine and was on the organizing committee to recognize shelter medicine as a specialty discipline with the American Board of Veterinary Practitioners.

$i++ ?>
Components visible upon registration.