The Association for Animal Welfare Advancement Learning Center
The Certificate in Organizational Leadership
5 (9 votes)
Register

Animal Welfare Professional Member - $250
Student Member - $375
Industry Partner Member - $375
Learning Member - $375
Developed by Integris Performance Advisors, The Certificate in Organizational Leadership is a high impact, self-paced program designed for leaders throughout the animal welfare industry. By learning and applying the skills and techniques of this program, you will:
Be equipped to drive your organization to higher levels of team performance, operational excellence, and employee engagement
Become more emotionally intelligent while gaining deep insights into what drives you and those you work with to do the things you do
Understand how to make your teams as productive and cohesive as possible
Learn how to improve processes and streamline how work gets done
Gain insights about the behaviors you must exhibit more frequently to be the most effective leader you can be
Leaders in any animal welfare organization, including senior executives, middle managers, and front line supervisors will benefit from this course, as will people who strive to become leaders someday.
This 8-12 hour course (each module will take 2-3 hours) is approved for:
8 CAWA CEs
8 points by the Certified Fund Raising Executives (CFRE)
9 CEs by the Texas Department of State Health Services (DSHS) for Texas Animal Control Officers
---
Fees: $250 for Professional Members, $375 for all others.
BULK REGISTRATION: Enroll 5 or more of your staff/volunteers for the program at once & save $50 per person (members) or $125 (non-members). Not valid with other discounts. Contact us for instructions. Learn about how to make the program a team experience.
---
Curious? View this free introductory webinar to get a taste of the program: How Healthy is Your Organization?

Note: After registering for this course you will be emailed an access code to take the Everything DiSC Workplace Assessment which is part of the first course module - expect the access code within 48 hours (M-F). Check your spam / junk inbox for the email from @wiley. If you don't receive it, email learning@theaawa.org.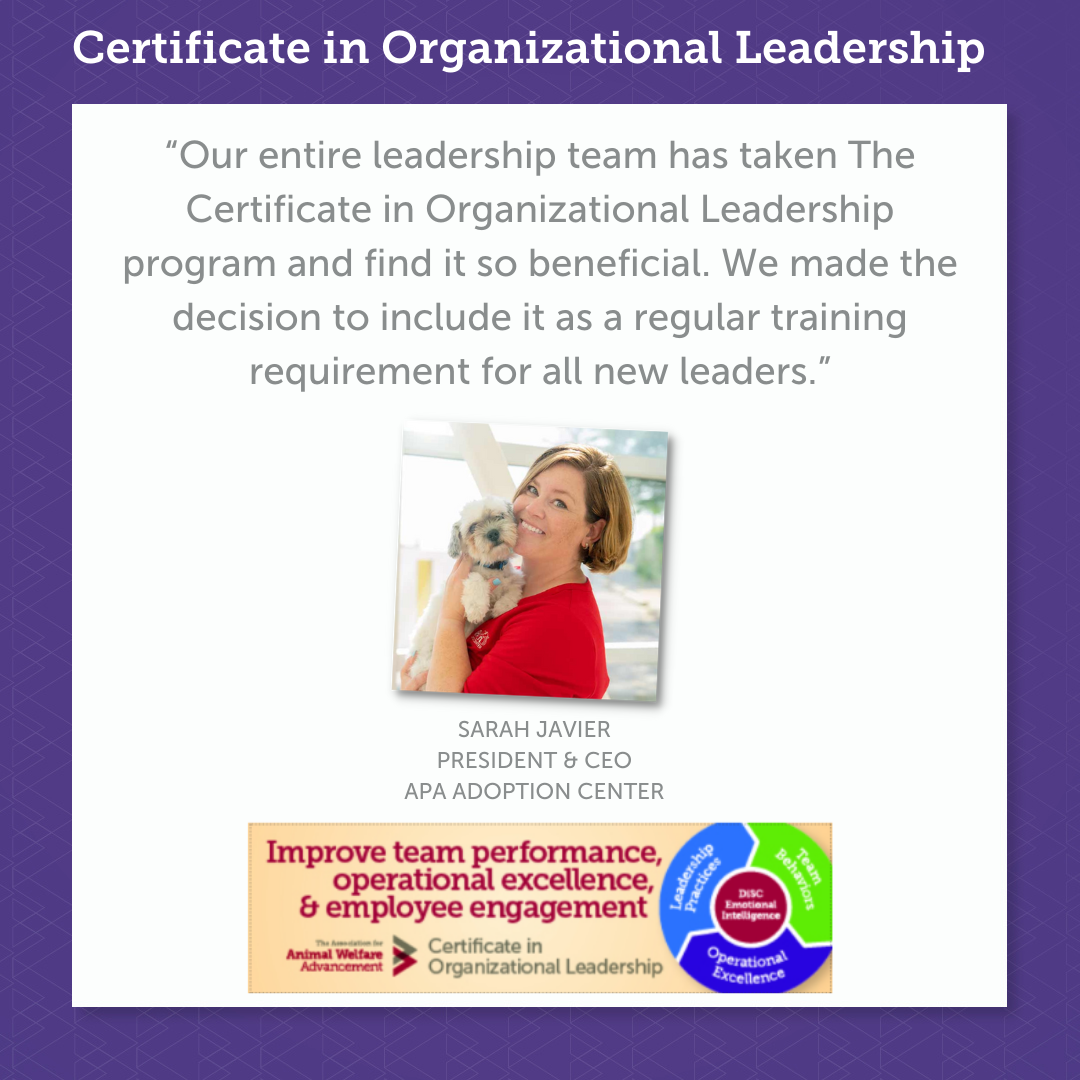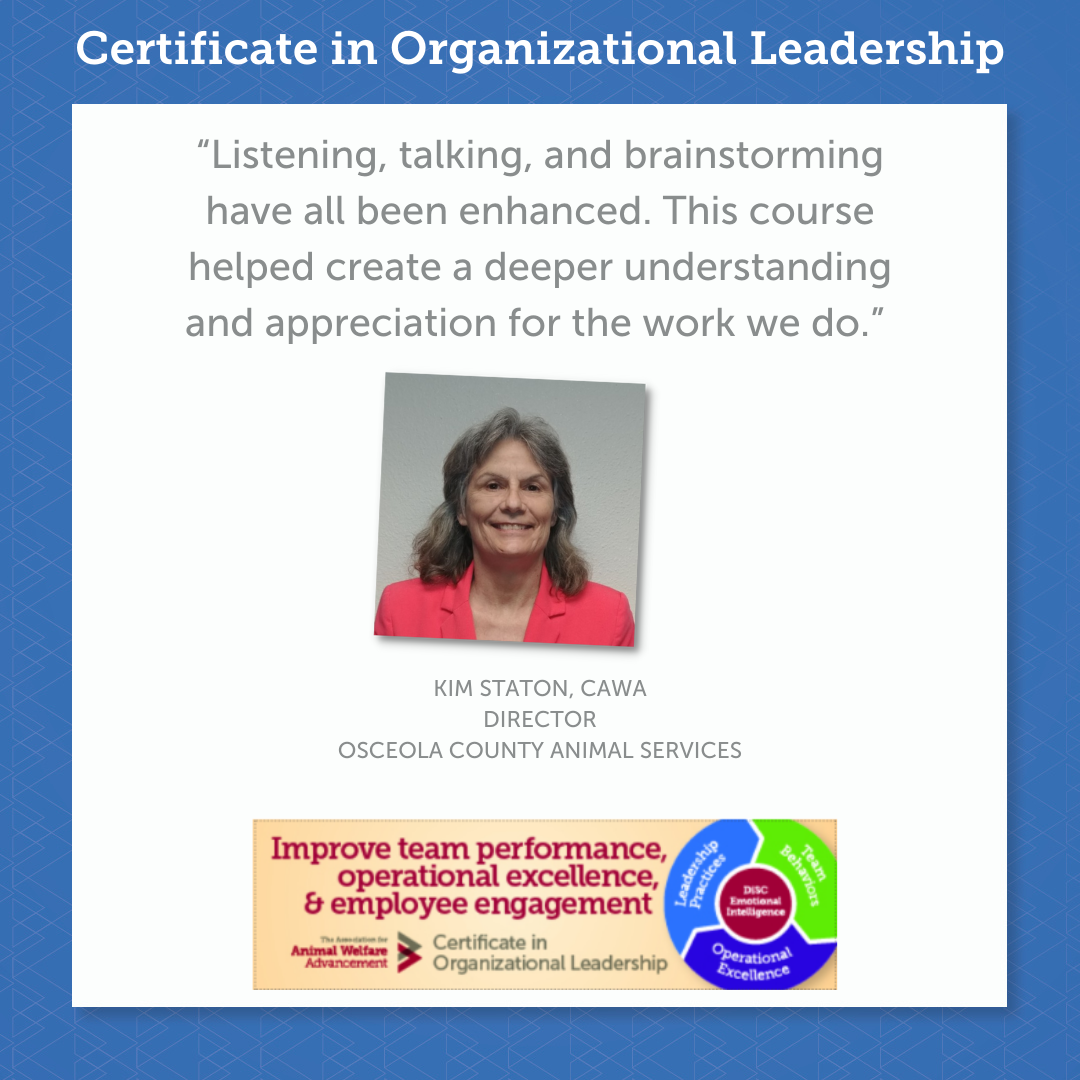 Introductory Module
A healthy organization is one that exhibits high levels of:
• Employee engagement
• Trust and respect
• Collaboration and teamwork
• Quality
• Customer satisfaction
And low levels of:
• Turnover and absenteeism
• Safety incidents
• Internal politics
• Departmental and functional silos
• Gossip
Serving as the launching point for your leadership development journey, the program introduction will provide you with a clear understanding of why you must focus your attention on four key areas:
1. Emotional Intelligence
2. Team Behaviors
3. Operational Excellence
4. Leadership Practices
Interactive Module 1: Emotional Intelligence
Central to any organization's culture is how people communicate and interact. Emotional Intelligence (EQ) refers to the ability to understand, recognize and manage the emotions that underlie communication and interpersonal interaction, both in yourself and in others. By completing this module, you will:
• Become more self-aware of your own mindset and behavioral tendencies, gaining a deeper recognition of why you do what you do
• Be able to more easily recognize the behavioral tendencies of others, giving you the ability to adjust your communication style as the situation demands
• Understand a powerful framework called DiSC, that will enable you to help your peers, colleagues and direct reports become more emotionally intelligent too

Interactive Module 2: Team Behaviors

Research shows that highly cohesive teams consistently outperform other groups of people. Why? Because cohesive teams:

• Make better, faster decisions
• Tap into the skills and opinions of all members
• Avoid wasting time and energy on politics, confusion, and destructive conflict
• Have more fun while being more productive
In this module you will learn how to influence your team to embrace the five behaviors that are central to creating the highest levels of cohesion and engagement:
1. Building vulnerability-based trust
2. Engaging in productive conflict
3. Committing to team decisions
4. Holding one another accountable
5. Focusing on collective results
Interactive Module 3: Operational Excellence
Everything that happens inside an organization is a process; a series of steps, actions, and/or decisions that ultimately result in getting something done. But all processes are not created equal. Many processes are fraught with waste and non-value adding activities, such as:
• Mistakes and rework
• Waiting and back-and-forth handoffs between people and/or departments
• Extra movement and transportation
These inefficient processes lead to employee frustration and customer dissatisfaction. Through this module, you will learn the basics of a proven methodology called Lean Six Sigma, giving you the tools and skills, you need to:
• Define where problems exist
• Measure the impact of process inefficiency
• Analyze and improve how work gets done
• Put in place new procedures that will control process efficiency and drive change forward in your organization
Interactive Module 4: Leadership Practices
As a leader in your organization, your behaviors have tremendous influence on those around you. Peers, colleagues, and direct reports look to you for guidance. They watch what you do and learn from your example.
During this module, you will learn to more frequently exhibit the five leadership practices proven to drive higher levels of organizational performance and positive workplace attitudes:
• Model the way
• Inspire a shared vision
• Challenge the process
• Enable others to act
• Encourage the heart
Conclusion Module
By completing the four interactive modules, you've dedicated yourself to self-reflection and personal development. You've learned new tools and techniques for being the best leader you can be. In this final segment we will focus on the future, giving you a final set of tips and advice for how you can apply what you've learned for the benefit of your team, your organization and all those you serve. While this may be the end of the certificate program, we hope it's just the start of your journey toward creating a healthier organization and a great place to work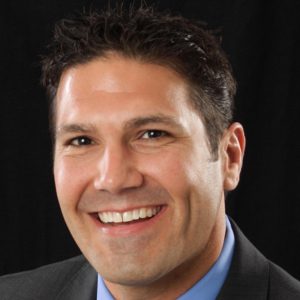 Brett Cooper
President & Co-Founder, Integris Performance Advisors
Brett Cooper is the President of Integris Performance Advisors, a professional development firm he co-founded to expand the existence of healthy organizations and great places to work. By creatively bringing together concepts from The Five Dysfunctions of a Team (by Patrick Lencioni), The Leadership Challenge (by Jim Kouzes and Barry Posner), Everything DiSC and Lean Six Sigma, Brett and his team have influenced thousands of people in government, nonprofits and corporate America to work together in more productive, more effective and more human ways. Brett is the performance consultant for San Diego Humane Society. He earned an MBA in Finance from the Stern School of Business at New York University and a Bachelor's degree in Marketing from San Diego State University.
$i++ ?>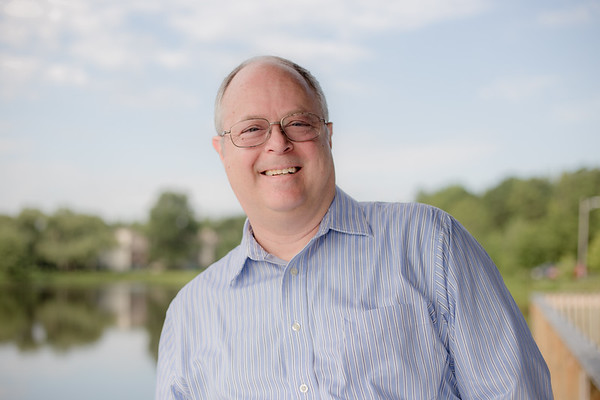 Evans Kerrigan
CEO and Co-Founder, Integris Performance Advisors
Evans is CEO and Co-Founder at Integris Performance Advisors. Evans has over 20 years of experience developing leaders and running operational excellence programs. Evans holds a Bachelor's Degree in Marketing from Virginia Tech and an MBA from Golden Gate University. He is a Certified Master for The Leadership Challenge, a Certified Facilitator for Everything DiSC Workplace, an accredited facilitator of the Five Behaviors of a Cohesive Team, and a Master Black Belt in Lean Six Sigma.
$i++ ?>
Components visible upon registration.
Here are ideas on how you can make the certificate program into a team learning experience.